Sun 10th Mar 2019
Type of event: Local Race
Type of terrain: Forest
Results
Low key event suitable for newcomers and families. Limited range of courses available: white (beginner), orange (intermediate) and green (advanced).
Sun 24th Feb 2019
Type of event: National Race
Type of terrain: Forest
Results
CompassPoint Scottish Orienteering League 1 (UKOL).
We are delighted to be hosting the first Compass Point Scottish Orienteering League event of the year as part of the 2019 British Night Orienteering Championships Weekend.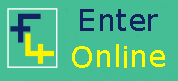 Final details in PDF format here.